Hello everyone! I am so thrilled to get this simple and healthy, protein-packed weeknight meal to you. Using very few ingredients, this Pesto Chickpea Legume Pasta with Sun-dried Tomatoes and Feta comes together in a pinch. This is an amazing way to deliciously add protein to my kids' meals! As an added bonus, it is another exposure to them of something green (the pesto) that also tastes delicious!
I have partnered with Pasta Lensi to bring you this 6 ingredient, protein-packed meal.
That's right, each 3.5 ounce serving of this legume pasta packs 22 grams of plant-based protein!
Even better, unlike other legume pastas, Pasta Lensi legume pasta is made with ONE simple ingredient: chickpeas. That is it! It's simple and delicious.
Hope you enjoy it!
Pesto Chickpea Pasta with Sun-dried Tomatoes and Feta
Serves: 4-6
YOU WILL NEED:
1 box Pasta Lensi Chickpea Casarecce Pasta
1 c feta, cubed into small cubes (see notes)
1/2 c sun dried tomatoes, diced small (I suggest the kind that come in a jar)
2/3 c pesto
1 tsp salt
1 tsp pepper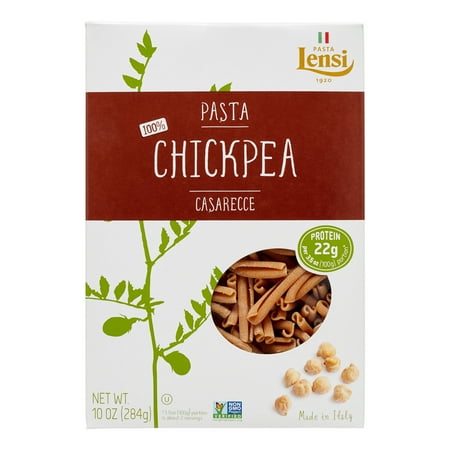 TO MAKE:
Set a medium pot of water on the stove to boil (approx. 3 quarts, but I never measure)
While waiting for the water to boil, take out your block of feta and cut into little 1/4" cubes; set aside
Cut your sun-dried tomatoes into small bits (about the size of a raisin)
Once water is boiling, cook the pasta for approx. 7-8 minutes (until tender), being sure to stir occasionally so the pasta doesn't stick on the bottom of your pot and also being careful not to overcook*
Once the pasta is cooked through, drain it with a colander and then return it to the pot.
Add the pesto, salt, and pepper and stir.
Add sun-dried tomatoes, feta and stir gently, just till the ingredients are incorporated.
*Chickpea pasta can overcook quickly, and get sort of mushy. If unsure, err on the side of caution and don't leave it too long on the stovetop.
NOTES
You can use sun dried tomatoes in oil or dried that come in a bag; I prefer the ones that come in oil since they add a wonderful taste to the pasta and are softer
You can use crumbled feta, but I prefer the block. The taste is incomparable!
My kids actually do like this! (At least today, ha!) John Robert begged to eat it during the photoshoot.
I hope you get to try this and it becomes a simple, delicious weeknight staple for you!
#ad #pastalensi #legumepasta