Hello again, everyone! I know it might not feel like it to many of you yet, but warmer weather is on the horizon! And nothing says warm weather to me quite like a fresh, juicy tomato. I just love the taste of one soaked in good olive oil and balsamic. Nothing beats it. Pair it with the protein-rich Pasta Lensi Red Lentil Fusilli and you've got yourself a delicious meal! The rich olive oil, juicy tomatoes, and yummy legume pasta…you can't beat it. It's fresh, healthy comfort food!
I was so excited to create this dish, because I love a simple meal that keeps me satiated during busy afternoons with the kiddos. Unlike other legume pastas, Pasta Lensi is made with one simple ingredient, and its Red Lentil Fusilli packs 26 grams of protein in every 3.5oz portion (about 2 servings)! That's enough to keep me (and the kiddos!) fueled for all the fun and adventure our afternoons can hold.
Pasta Lensi's Red Lentil Fusilli is legume pasta is made from ONE simple ingredient: red lentils.
That makes this dish one powerhouse of plant-based protein, fresh veggies, and real ingredients.
I hope you enjoy it!
Red Lentil Fusilli with Balsamic Marinated Tomatoes
Serves: 4-6
YOU WILL NEED:
1 box Pasta Lensi Red Lentil Fusilli
3 c cherry tomatoes, halved
3/4 c olive oil
1/2 c balsamic vinegar
3 cloves minced garlic (I prefer to use cubed garlic)
1 tsp salt
½ teaspoon pepper
approx. 10 basil leaves, julienned
1 cup freshly grated parmesan cheese (optional, for topping)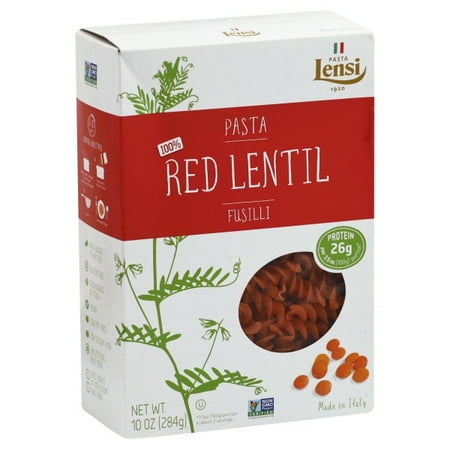 TO MAKE:
(PREP EARLIER IN THE DAY):
Combine olive oil, balsamic, garlic, salt and pepper.
Pour this over the sliced tomatoes.
Cover the tomato bowl with plastic or foil and allow to marinate for at least 1 hour on the counter (though longer is better!)*
*The reason you want to give the tomatoes plenty of time to sit in the oil and balsamic is that over time the acid will soften the tomatoes and they will actually get juicier! They are truly bursting with flavor! I like to give mine at least 2 hours to whenever I can.
(WHEN IT'S TIME TO EAT):
Put the water on to boil and cook the fusilli pasta according to box directions.
Once cooked through, drain, and immediately toss with the marinated tomatoes and all the juice.
Top with fresh basil leaves, and serve.
Have a bowl of freshly grated parmesan on the table for people to sprinkle on their bowls.
Like Pasta Lensi's Chickpea Casarecce, Pasta Lensi's Red Lentil Fusilli is full of exciting flavor, one ingredient, and nothing else! You can find Pasta Lensi at several large retailers across the U.S. Let me know if you make this one.
Hope you enjoy it!