After staying in Savannah in a spacious and historic apartment, I realized there were a few things we didn't think about that matter to us when going on a trip. Now, to be fair, hindsight is always 20/20 for these sorts of things. And weather can play a major role in how much you end up sitting in your hotel room/Airbnb verses how much you are enjoying the great outdoors. I hope the below comments don't come across as ungrateful, but rather as a few things we won't overlook in the future when we go about spending money on a place to stay. Knowing what we know now, if we were to do this trip again, Nate and I would likely have enjoyed staying in a hotel more.
Why? Two big reasons: A comfortable bed and a TV in the bedroom.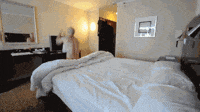 This lovely location was lacking in both.
The first question that must be asked is how often you plan to stay in the room. Like I said above, weather can play a huge role here. It can help you determine how much space you need, if you need a kitchen, etc.
From there, here's a few more questions…
How important is the bed?
The bed at our Airbnb was terrible. Awful! It creaked with every move you made and was flat and hard. The given small size of most hotel rooms, they tend to capitalize on a very large and comfortable bed. I know many Airbnbs also have amazing beds, so I would suggest reading the reviews closely to look for any red flags.

See that lovely bed behind me? IT WAS AWFUL.
How important is watching TV?
This charming historic house also came with a historic TV. Located in the living room. With a small historic couch. Ha!

Nate and I don't have a TV in our bedroom at home and I had forgotten what a luxury it is to watch a giant TV in a giant cozy bed when you stay at a hotel. That was something I really missed this trip. The TV also didn't have any internet so even if we did want to watch it, there were a limited amount of channels.
How important is a bathtub?
This was a total oversight on our part. When it comes to having a tub, the answer is always, ALWAYS yes. Luckily, it was a super warm weekend in Savannah so I didn't mind too much, but had it been cold, I would have really missed not having a bathtub. At home, the only bathtub in the house is shared with the little people. There is a true luxury in filling up the bath and not having to clean our dirt and bath toys before doing so.

The place had a wonderful spacious shower! For many, this would be a huge selling point. Sadly, I was really missing a nice big bathtub.
How much do you plan to be in the room?
Nate and I went the Airbnb route because we really weren't sure what the COVID restrictions would be like at a hotel. I hated the thought of wanting to sit in the lobby and read and having to wear a mask the whole time. Airbnb felt the like safer option to ensure we had plenty of space without lots of restrictions. However, the weather on this particular trip was amazing and we spent no time in the Airbnb. Again, hindsight being 20/20, after being out and about all day, all we really wanted was a better bed and a TV (ha!). Had the weather been awful and rainy, we likely would have appreciated the space the Airbnb provided more.

This living room space was gorgeous! I think had the weather been terrible we would have appreciated it a lot more. Nate sat at this table or approx. 15 minutes one morning and that's the most we spent in this space.
Do you plan to cook or eat out?
One final thing out Airbnb provided that we quickly realized we had zero use for was a kitchen. This being a quick getaway for us both, I wanted to take the weekend completely off from cooking. We opted to instead eat our way through Savannah and having a kitchen was completely unnecessary for us. Were we taking a trip for a longer period of time, or with the kids, I would find a kitchen much more useful.
And there you have it! A few things we will certainly not overlook next time.
I hope these questions were helpful next time you go to book a night or two away!