Hello and welcome back to my little series on Decorating for Christmas with Little People. These posts have come to fruition in real time in my actual life in my actual house. Nothing is staged; this is how I am actually decorating. I am just a mom, standing in her living room, trying to deck the halls without feeling the need to deck a family member instead.
So let's jump in to Part 2: the actual decorating! To make it quick and easy to read, I have made a list. Below you will find 8 strategies for decorating I have learned over my 4 short years as a mom.
1
As we learned in Part 1 of this series, Christmas decor can make me feel junky and suffocated. So that I don't feel those miserable emotions, I try and swap out as many items as I can as opposed to adding to the house. For example, I will switch out normal picture frames for our Christmas ones. I will change the pillow on the couch to the Christmas one. I try and swap item for item and anything that is going away for the Christmas season simply goes in the Christmas decorating box. When it is time to put away Christmas, the items I took down are waiting to be swapped back out of the Christmas bin. Easy peasy!
for example: we switch the pillows on our matching blue chairs; it makes the room more festive without adding any extra stuff to the space
2
Invest in a good wreath for the door. Whether you prefer real or fake, this is the first thing you see when you drive up your driveway. It is the first signal to your brain that this time of year is special and different. Plus, it's a decoration that doesn't clutter your home one bit! We have this one from Target and I love it. Going on year three! (Eventually I get tired of the bells ringing and I tuck them into the wreath so you don't hear them anymore.)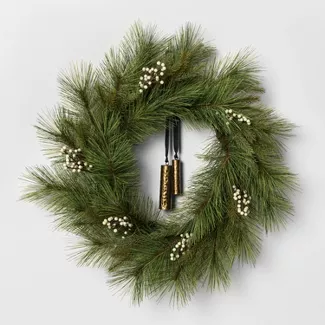 Hearth and Hand Christmas Wreath
3
Keep things you don't want moved around and touched by little hands up high. This one might seem obvious, but you won't believe how many things you end up displaying on a coffee table only to have the baby Jesus taken out of the nativity scene and thrown in the garbage. DON'T ASK ME HOW I KNOW.
The Nativity Scene (on the right) used to be on the table on the left. Now, it's on a higher shelf where JR has to get on a chair to help me set it up. The entry table that they can all reach now has photos and an amazing electric snow globe. They love the snow globe but don't really mess with the pictures at all.
4
On the flip side of number three, make sure you also have a few holiday decorations that are perfect for little people to play with. Remember, it is their home too. They are so excited about Christmas and want to experience it. It is hard for them if all of a sudden the house feels like a "do not touch" Christmas museum.
They have a children's nativity set that they are welcomed and encouraged to play with whenever they wish!
Now that this nativity is on a shelf in the family room as opposed to on the entrance table, I am no longer super annoyed when it is moved around. It isn't the first thing I see when I walk in the door and is now a designated play set for them. The picture on the left is how we set it up…the picture on the right is how it looks 99% of the time. Basically like the plague hit the same day as the birth of Christ and he was the only one spared…very sad.
5
Bring out the Christmas books. We keep all seasonal/holiday books in a bin and swap them out accordingly. Goodbye Halloween! Hello, Mr. Grinch. (PS, I really want to get the kids a few more books that highlight the coming of Jesus, so if you have a good one please leave it in the comments! Thank you!)
We put these away until next September/October:
And brought out these!
Below is my favorite Christmas book. I remember it from childhood and last year my grandmother gave it to the children. So many sweet memories bringing this one out to read during Christmas.
6
See the artwork your children bring home as the perfect, handmade Christmas decorations. Display it! I do so using clothespins and a piece of twine. The kids are so proud to see it on display and I personally love the color and whimsy it adds to the house.
7
Exchange one (or a few if you've got the space!) of your houseplants for a poinsettia or mini tree. These bring so much of the Christmas spirit into the home and I love having plants around. I put the usual houseplant that sits on our entry table on a shelf in the laundry room (it gets enough light in there) and love having a festive plant to greet people instead. (Costco has ginormous poinsettias for $13.99)
8
Buy one new, quality decoration a year. Or, ask for one each year for Christmas. This way you slowly build a collection of quality decorations you actually love, that will last. Maybe it's quality stockings to hang, maybe it's some timeless faux pine branches, a nice wreath, or maybe a blanket or pillow. Thrift stores are also amazing places to find quality Christmas decor if you search!
**I do want to say, there is nothing wrong with having Dollar Tree decorations. That was my place to shop while Nate and I lived off of support and when he was in law school. I still have a few pieces that I love that have sweet memories of our first Christmases together.
This year, I bought the fake tree on our entrance table. Last year, it was a Christmas pillow and super cozy red throw blanket. I love slowly adding items I really love. Like I said before, Lord willing, there will be many Christmases to come and choosing to buy one special item a year helps me to be intentional and stops me from impulsively buying everything in the dollar spot at Target!
Friends, that's all I have got for you when it comes to Christmas decorating. But get excited for some post-Christmas, New Year's cleaning #ballinonabudget practical ways to refresh the home. I am already thinking about it and can't wait!