Hello everyone! I know that there are so many gift guides out there. And many of them are awesome! I looked at one Buzzfeed put out and was inspired by it.
When it comes to giving and receiving gifts, I am a very practical person. For the most part, I want gift that I will actually use and get my money's worth out of them. I also don't want a lot of extra clutter in the house (read: we don't have space for a lot of extra clutter in the house). I thought I would tell you about a few gifts I have asked for over the years to make this point even clearer:
A filing cabinet. I received it in high school and I still use it! My parents decided to give everyone a file cabinet that year. I came down on Christmas morning and was delighted! My siblings..well…they were less an amused.
A lazy boy chair: This was what I asked for in maybe 8th grade? So weird, I know. But think about it. I was the third of four kids. I had to fight hard for what was mine. So, I wanted a comfortable recliner chair that I could rightfully claim was actually mine when my siblings tried to steal it for weekend cartoons.
A label maker. For labeling my well organized shelves, of course.
New tennis shoes: This is something I ask for almost every year. I wear them a ton and they wear out.
A large all-clad pan: for making giant pasta dishes
I also like to gift very practical gifts. Oftentimes it is something the person has asked for specifically, so I trust they have good reason for wanting it. But if I am left to decide on their gift, you better believe I am choosing something I think will actually help them in some way, or something that brings enjoyment for a brief time and then is finished (like a candle). So, in the spirit of my weird utilitarian tendencies, I thought I would do a very NTK gift guide for you. These are all fairly practical gifts, and I only have a few for each category. For the kids' sections, I have split it into "PLAY" and "PRACTICAL NEEDS" so you can see a few of both. But if I am honest, I find the play things I listed to even be fairly practical.
Wow, how many times can I use the word "practical"?
I don't care! I am a practical gift giver and I don't care who knows it!
Without further ado, here are my gift lists with my thoughts on why I chose it:
FOR YOUR PARENTS OR IN-LAWS
Skylight photo frame: This would be so great for a grandparent who wants to see photos of the children often. All you do is email photos to the specific email attached to your device and they show up on the frame! Multiple people can be emailing them in so if you have siblings you could all gift this to your parents and then all be updating the photos whenever you want to. This saves on constantly texting photos that they see for a moment but never have displayed.
thymes simmered cider candle or thymes frasier fir candle: I love what a good scent can add to a home. It takes up minimal space but provides such a calming effect. I tend to buy seasonal candles to help get me in the spirit and these are two of my favorites! Also, practically, if the recipient doesn't like it, it's an easy regift for them. Just being honest!
rewined candles: these are my favorite for any time of year. The scent isn't overpowering (I am very sensitive to headaches from highly fragranced candles) and these last a long time. Really great quality! Cabernet is my personal favorite.
A Thermacell: this thing works pretty darn well at keeping bugs away. It is small, but works. Go ahead and buy the refill sheets and the butane cartridges for when it runs out.
A bluetooth speaker: I love music so much and having a quality speaker can make the entire experience so enjoyable! This one is $100, but I am also linking the Sony one Nate has that is smaller but 1/3 the price.
FOR THAT SPECIAL SOMEONE WHO IS VERY HARD TO BUY FOR
aqua notes: We have these in our shower (my brother Will gave them to us last year) and they really are great! Nate and I use it to leave funny things for the other to read. For us, it's really not about the notepad at all. It's just that when you are in the shower you have time to actually think and it is a great time to leave the one you love a little note. Just a fun something the person might not otherwise think to get but would enjoy having, not for the notepad itself, but for the fun communication it brings.
bluetooth keyboard: If you have someone who often has to respond to emails from their phone, this thing is amazing! It connects to my phone so well and has made doing any work for NTK from my phone much faster and more bearable.
drill brushes: These just remind me of my dad! This is for the man with everything known to man in his garage. I could totally see him using these. I am imagining this coming in handy to clean the shower tiles. Maybe this isn't the most practical? But it seems useful. And the title of this category is "that special someone who is very hard to buy for" so it seemed like this fit.
sunbeam heating pad: at this point I have purchased this for at least 6 people! I just love it. It is practical for anyone whether they want it sheerly for the comfort or for pain relief. I love turning mine on before I get into bed to warm the sheets! It automatically turns off after 2 hours.
FOR BABY:
PLAY
play mat: a place to lay the baby down and they get a little entertainment. these things are a mom's dream!
baby aquarium: we put this thing in the car attached to the headrest and it has helped so much for traveling with babies! it automatically dims and the music softens and lulls them to sleep
a tub nozzle cover for the bath: this thing is so fun for baby to watch the water flow from the whale, but also has such a practical purpose in protecting the baby's head from slamming into the spout (or in our case, protects Scout's head when John Robert pushes her…)
PRACTICAL NEEDS
zutanos: I swear by these booties! They are one of my favorite gifts to give to new parents. Super practical and come in both cotton and fleece. If you aren't sure, I always say go a bit bitter because babies grow so fast and these secure around the ankle really well.
Marpac Rohm portable sound machine: I am a HUGE fan of this. It charges via HDMI so most newer cars can charge it.
kidco go pod: this thing is AWESOME! I highly suggest to take when you travel to the beach, a hotel, a soccer game…anywhere you want to allow the baby to be independent but not crawl away!
bapron baby bibs: these are great for babies and I actually think even better for toddlers! I bet they will have a sale come Black Friday. I do believe my code "NAPTIMEKITCHEN10" should also work as well!
silicone baby bibs: these are the other bibs we love. They are really good for that middle stage when the baby is learning to hold food and dropping a ton of it!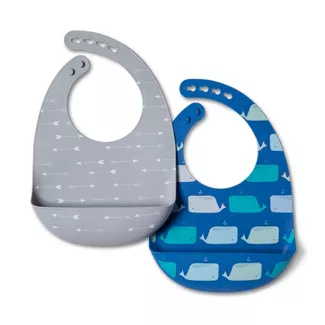 aiden and anias dream blanket: these are so cozy without being too hot. So many fun patterns to choose from!
a humidifier: trust me. you just need one. or four.
fleece sleep sack: I love the halo brand and have used the same ones for all three children now! Perfect for cold nights before baby is old enough for a real blanket. They can't kick this off!
a sun hat: always needed in the summer! This one is adjustable and lasts for years. Huge fan of it!
Patagonia jacket: these are the perfect weight to keep a child warm but not so puffy and hot for our mild Lowcountry winters. Last year we bought the Amazon Essentials dupe and love them! The girls have them too.
FOR TODDLERS:
PLAY
magna-tiles: We love these things! Ours were hand me downs from a cousin and the kids continue to play with them year after year. They are one of those toys we always have out. They allow for open play and creative thinking, but take up very little storage space.
knock-off magna-tiles that people also love and seem to work just as well: I have heard these are great and half the price! So really I don't know why I shared the magna-tiles (because who WANTS to pay double?!) but I guess you can compare and make your own choice (but definitely buy these because no toddler needs $120 MAGNETS! That is lunacy.)
mega-blocks: These are another toy we always have out. We store them in this amazing giant toy bag so they are easy to clean up. We play with them in the bathtub as well. I love the size so we never have to be concerned with Millie choking. I also tend to like these better than the specific lego duplo sets because then there aren't as many specific pieces for only one certain set. These blocks allow for lots of open play! (However, John Robert is getting into the smaller more difficult lego sets and I am so impressed with how long he will sit and work on one. So if you've got a 4+ year old I would opt for the fancier sets. BUT! He still uses these as well and has had them since he turned one.)
the amazing giant toy bag I just spoke of above: these are so perfect for holding all the larger toy items! Can't say enough good things about them. Ours is 3 Sprouts brand but I couldn't seem to find them on amazon but these are similar!
CD/bluetooth boombox: Scout got this for her birthday and it has been so great! I love that it has a CD player so the kids can listen to audiobooks from the library (and my old Now That's What I Call Music! CDs) and also love that it doubles as a bluetooth speaker so we can listen to the latest Frozen Soundtrack. For me, it's just great for them ot have a place to play music that doesn't involve a screen.
Curious Chef Kids Knives: these are super safe and a great way to get your little one started in the kitchen!
Chutes and Ladders: this game has been so fun for us! It helps John Robert with counting too. It is super straightforward and to be honest the chutes have helped John Robert to deal with disappointment and learning to be ok when he loses.
PRACTICAL NEEDS
simple modern water bottles: these are great stainless steel bottles that are slightly less expensive than many competitors but still amazing quality
planet box rover lunchbox: I cannot stress how much I have loved these lunchboxes for my kids. They are the BEST. I don't have a code or anything for you but maybe they will go on sale?
packit lunch box: I have not used these but want one! They seem so smart to me! The lunch box itself has ice packs so the entire thing stay cold.
Mabels Labels: I have been using these for everything and LOVE THEM. I get the contact info labels and put our last name and my phone number. The price might seem high but you get a ton and they last! Their customer service team is also super kind, which really matters to me. Also, they just came out with bottle labels! I use have used inchbug in the past and loved them and these look super similar.
Rain boots: I love the designs on these and they are a great price!

That is all I have for you! It is in no way extensive, but hopefully it is a starting point and gets your brain working as you seek to shop for those you love. Have a lovely Thanksgiving everyone!
Love, Kate
*THE LINKS IN THIS POST ARE AFFILIATE LINKS, MEANING, AT NO ADDITIONAL COST TO YOU, I GET A COMMISSION IF YOU CLICK THROUGH AND MAKE A PURCHASE. SO IF YOU DO HAPPEN TO PURCHASE AN ITEM, THANK YOU IN ADVANCE!
Other posts you may like: